Diet/Weight Loss Advertising
this page updated last on: 01/12/2013
Thanks to School Library Journal for recommending this resource.
KEY QUOTES

"Testimonials from individuals are not a substitute for science,
and that's what Americans need to understand."
FTC Chairman Deborah Platt Majoras, quoted in
Jan. '07 AP story
about FTC fines against weight loss product producers for false/misleading advertising
"If you see an ad for a weight-loss product making fantastic claims, keep your money in your pocket," said Lydia Parnes,
Director of the FTC's Bureau of Consumer Protection.
Source
INTRODUCTION
Yes, it's that time of year again--just after the holidays. Magazines in particular feature cover stories
on losing weight. And weight loss advertising seems to be everywhere, especially in these new year's publications.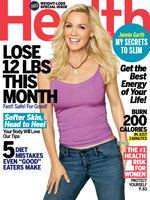 Presented here are some resources, ads, and activities that will encourage young people to use "critical thinking skills" as it relates
to these persuasive forms of advertising. Since teaching the "techniques of persuasion" is in most state's teaching
standards, these ads are perfect for use in classroom settings. If you have comments, please send them to me: fbaker1346@aol.com
BACKGROUND
In early December 2003, the Federal Trade Commission issued new guidelines to the media about accepting advertisements for weight loss products which may be deceptive in their claims.
Read how the media covered the story.

FTC Advice issued December 2008: Have some healthy skepticism. Consumers can learn how to spot health scams, such as fake cancer cures and bogus weight loss products, and do some research on buying generic drugs, Lasik eye surgery, and using dietary supplements. Consumers can learn about rights they may not even know they had – like the right to obtain a copy of prescriptions for eyeglasses or contact lenses at www.ftc.gov/health. ( See also the FTC website: Red Flag: Bogus Weight Loss Claims)

Presented below are several ads for educators/parents to consider using. Use of these ads in this context does not imply any deception. Rather I invite educators/parents/students to use media literacy concepts and critical thinking questions and apply them to these ads.

NEW: download these ads for analysis & deconstruction

2013 Ad Posted on AOL 2013 Ad Posted on AOL Back Cover Ad from Dash Magazine

Nutrisystem
(US Weekly, Jan. 14 2013)
Hydroxy
(US Weekly, Jan. 14 2013)
Sensa
(US Weekly, Jan. 14 2013)
Weight Watchers Ad
(US Weekly, Jan. 10 2011)

Atkins Ad
(US Weekly, Jan. 10 2011)

Nutrisystem
(US Weekly, Jan. 10 2011)

Medifast Ad
(Better Homes Magazine, January 2009)

Jenny Craig Ad
(US Weekly Magazine, January 12, 2009)


Weight Watchers Ad
(Parade, January 4, 2009)

Alli Ad
(Good Housekeeping, January 2009)
NutriSystems Ad
(Parade, January 4, 2009)

Atkins Ad
(US Weekly Magazine, January 12, 2009)

Hydroxycut
(US Weekly Magazine, January 12, 2009)
Weight Watchers Ad
(Better Homes & Gardens, Sept. 2008)

Gabriel Method Web Ad
(ScientificAmerican.com
Accessed May 4, 2009)


2012 Ad from Yahoo WebSite

| | | |
| --- | --- | --- |
| Ad from AOL Homepage (January 2010) | Ad found on a blog below (February 2010) | Ad from AOL Homepage (January 2009) |
| | | |




FTC Fake WebSite for Student evaluation: FatFoe

Recent news articles/research:

small print above reads:
*The "546% weight loss" claim is based soley on Zantrex-3's active weight-loss
component. However, Zantrex-3's non-ephedrine, xanthine-based Super Stimulant TM
has been shown to produce additional weight loss in some studies.
+For full study details visit www.Zantrex-3.com